LUKE'S STORYBOOK ADVENTURE SERIES MISSION, GOALS, AND EDUCATIONAL STANDARDS
We are dedicated to improving the lives of children and animals through the human-animal bond by providing educational books, videos, games, materials, and merchandise.  Our overall Goal is to reduce the number of abandoned pets by promoting compassion toward all animals and providing community and global awareness about the conservation of wildlife, habitats, maintaining sustainability and global biodiversity.
We Believe the loss of global biodiversity and animal extinction is due to a loss of sustainability in land use/urban development, ocean exploitation, invasive species, climate change, land/air/sea polution, destruction of nature/habitat loss, and human/animal conflict. These global issues are tastefully and carefully addressed in Luke's Storybook Adventure Series.
DESTRUCTION OF NATURE AND HABITAT LOSS
Logging: Luke's Rainforest Exploration
Wildfires and Arsonists: Luke's Australian Walkabout (FALL 2021)
INVASIVE ALIEN SPECIES
LAND/AIR/SEA POLLUTION
Luke's Australian Walkabout (FALL 2021)
CLIMATE CHANGE
Luke's Polar Quest (FALL 2021)
Luke's Dinosaur Expedition (FALL 2021)
Luke's Space Odyssey (FALL 2021)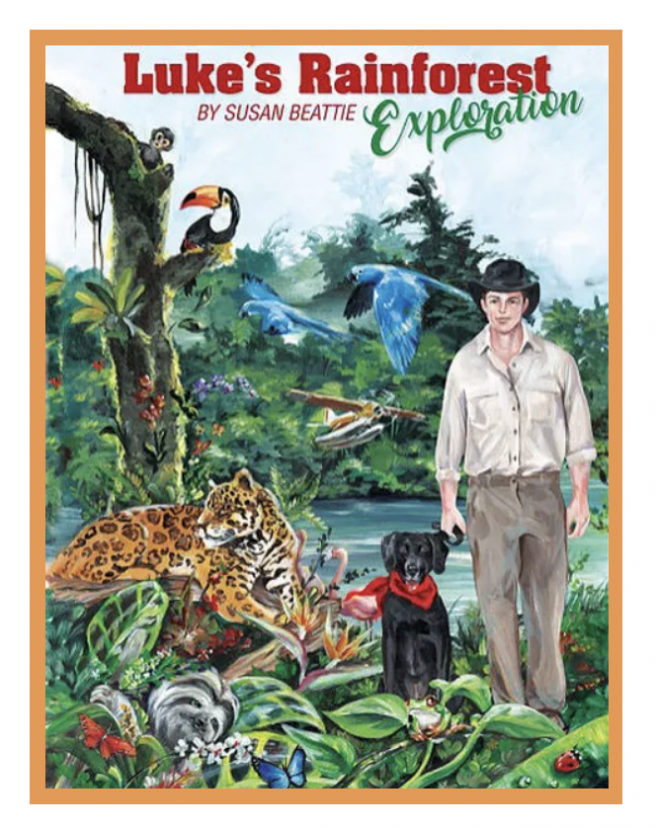 HUMAN/WILDLIFE CONFLICT
Wildlife Poaching: Luke's African Safari 
Wildlife Trafficking: Luke's Magic Dragon Escapade (FALL 2021)
Wildlife Trapping: Luke's Egyptian Discovery (FALL 2021)
Wildlife Smuggling: Luke's Magic Carpet Experience (FALL 2021)
Performing Animals: Luke's African Safari
Vehicular Collisions (Wildlife Corridors): Luke's Everglades Excursion
Seminole Trails Elementary school was extremely privileged to welcome Ms. Beattie to our school during "Celebrate Literacy Week".  Ms. Beattie's presentation was wonderful.  She kept our students engaged the whole time.  I would highly recommend bringing Ms. Beattie to your school! 
-Lisa Seymour, Media Specialist at Seminole Trails Elementary School
What Students Learn From The Books:
• Adventure, imagination, dreams
• Human-animal bond
• Animals around the world
• People around the world
• Multi-cultural characters
• Introduction to each continent
• Introduction to multiple languages
• Methods of travel (past/present)
• Methods of communication (past/present)
• Compassion, empathy and responsibility to animals and to each other
• Luke rescues domestic and endangered animals
• Heirloom jewelry, precious gems, or artifacts and their history
• Famous people (past/present) such as explorers, authors, inventors, artists
• Landmarks in the United States and abroad