We are truly thankful for all of the recognition throughout the years.  Your interest in our Mission gives hope to bringing awareness to our animals species around the globe.
-Susan and Luke 
PBS TV Interview: Literacy & Compassion
Score Entrepreneur of the Year

Palm Beach Shiny Sheet, "Rescue dog Luke well-known on Worth Avenue and beyond" (2018)
Cape Cod Chronicle, "Palm Beach Big Dog" (2018)
Palm Beach Post, "Look! It's Luke!" by Janis Fontaine (2016)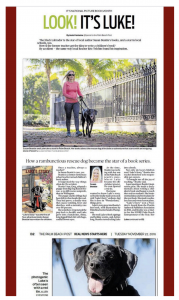 Palm Beach Daily News, "Life-Changing Luke" (2016)
Town-Crier Online: "Author Susan Beattie Visits Binks Forest,"  (2014)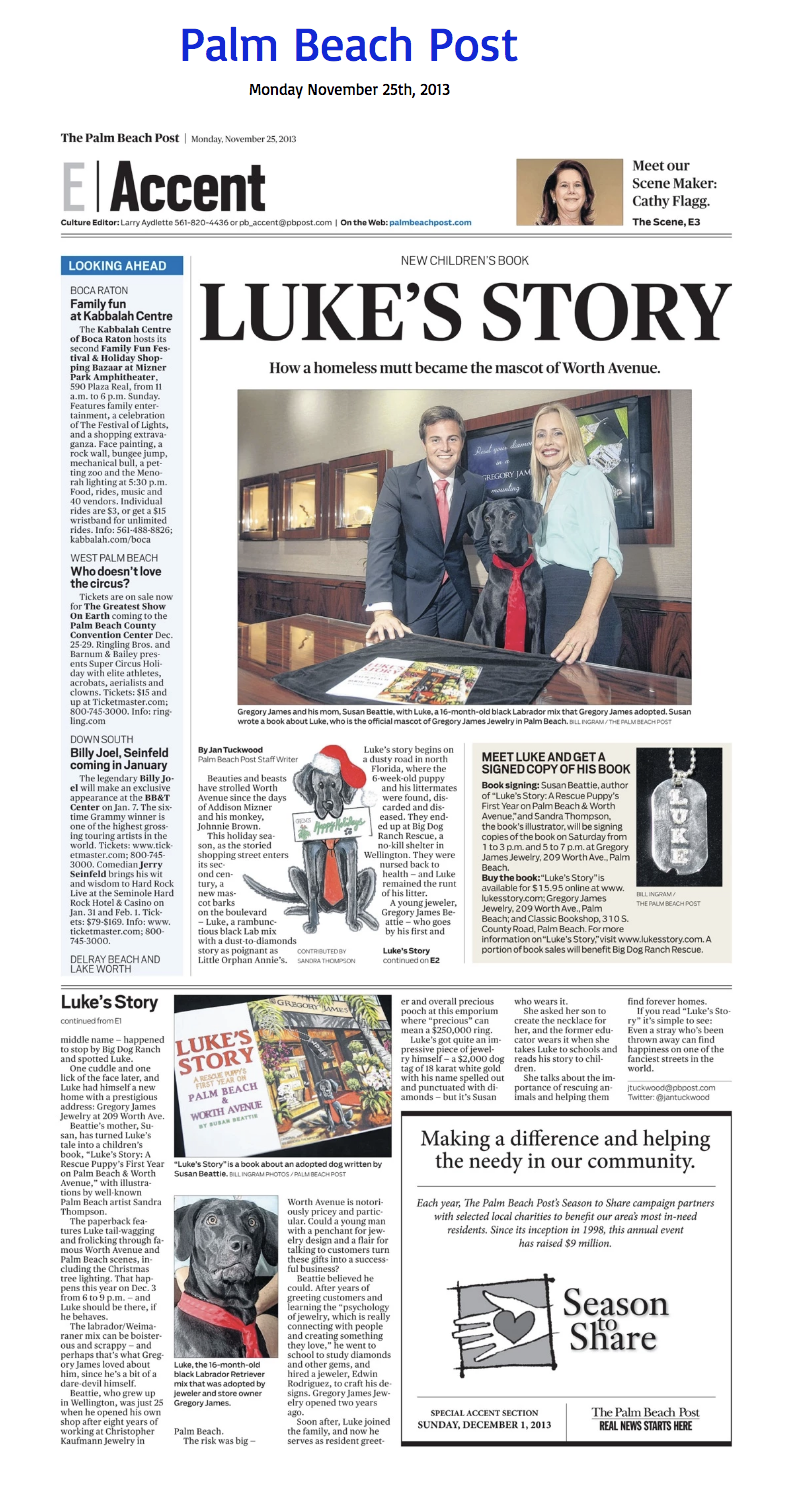 Penny Pompei "Talk of the Palm Beaches"

Podcast Interview with

Luke's Adventure Series Author, Susan Beattie
PODCASTS: LISTEN NOW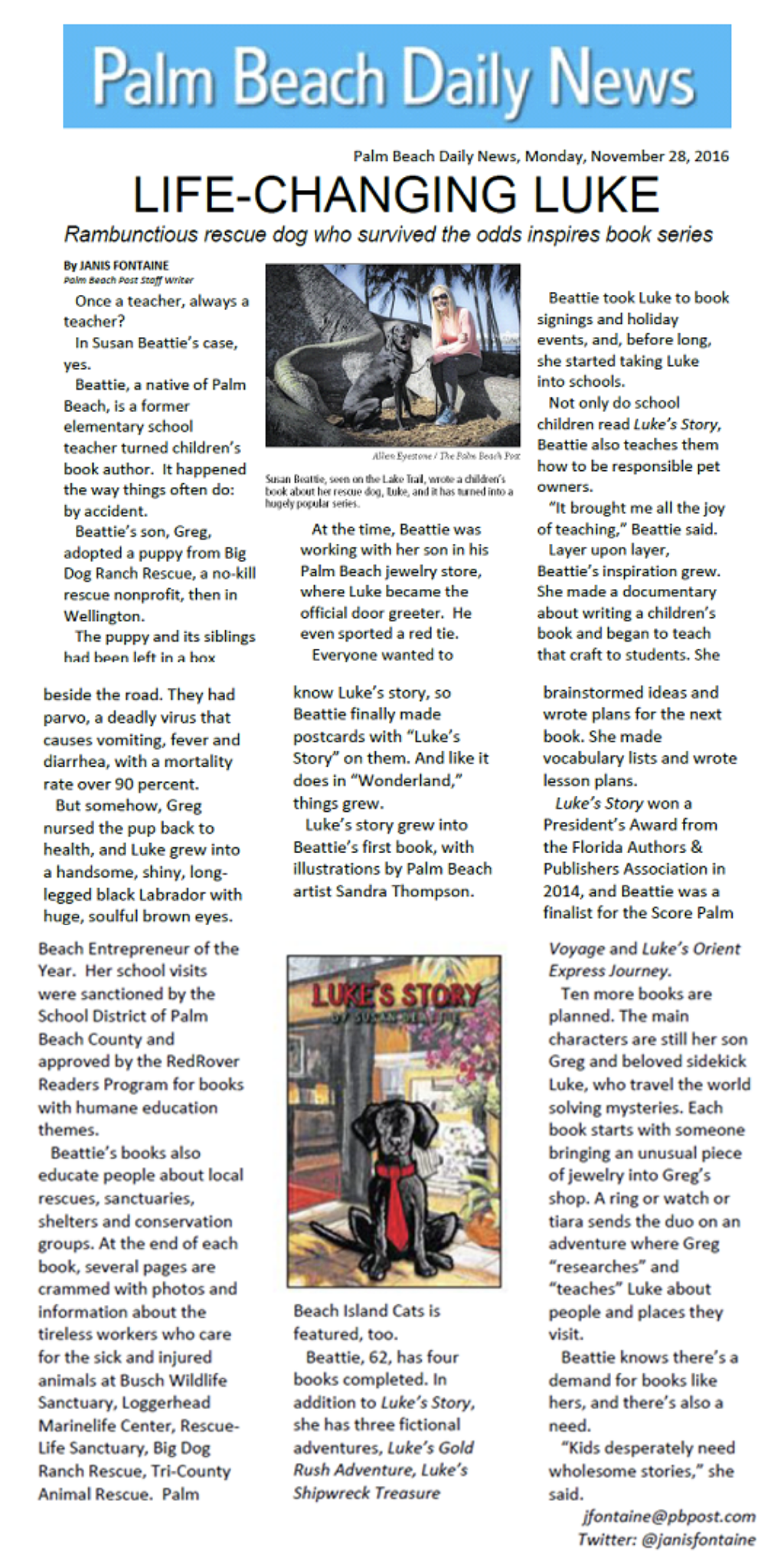 PalmBeachPost.com "Dog inspires former Palm Beach Gardens teacher to write book," by Mary Thunachter (2014)
Palm Beach Illustrated, "A dog's Tale" (2014)
The Benjamin School: Buc Banter Online News, "Children's Author Shares True Tale of Rescue Dog," by Kathy Ajello, Ed. D.
Palm Beach Daily News "Author a runner-up for SCORE's Entrepreneur of the year," by Jane Fetterly (2014)
Palm Beach Post,  "3 Businesses vie for SCORE award," by Linda Santacruz (2014)
Palm Beach Society, "A Puppy's Dream Comes True" (2013)
Palm Beach Post, "Luke's Story: How a homeless mutt became the mascot of Worth Avenue,"  (2013) – CLICK FOR FULL STORY
Florida Design Palm Beach The Island, "Luke's Story"' (2014)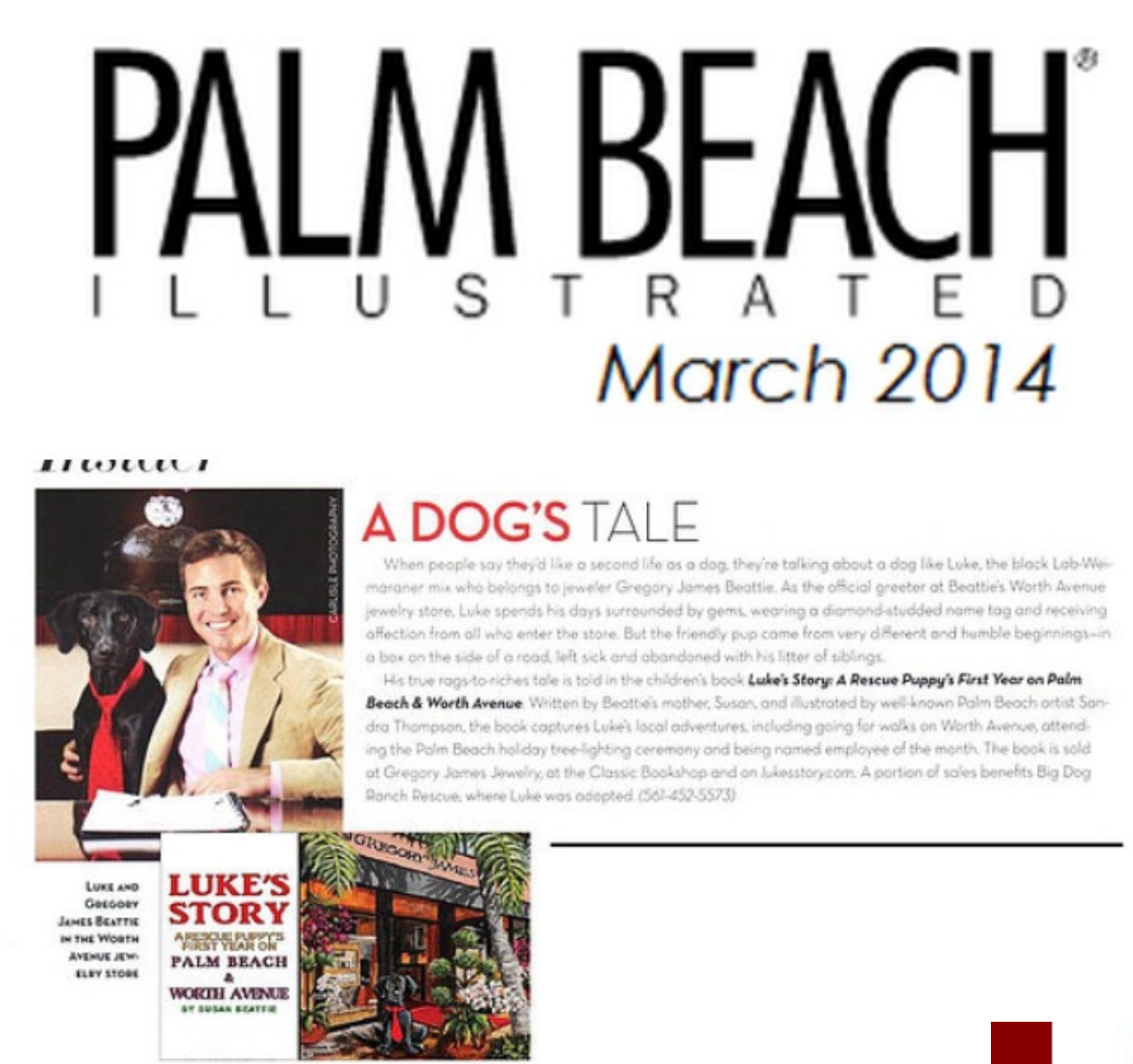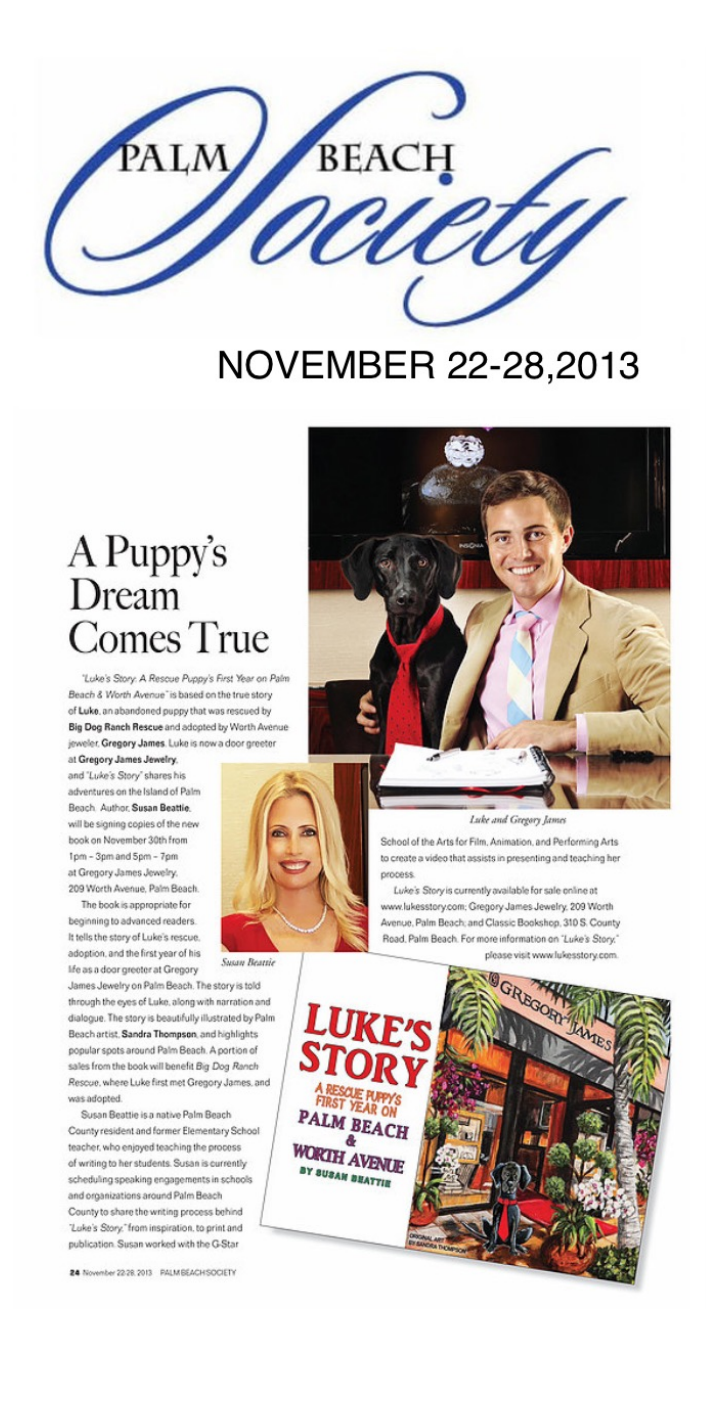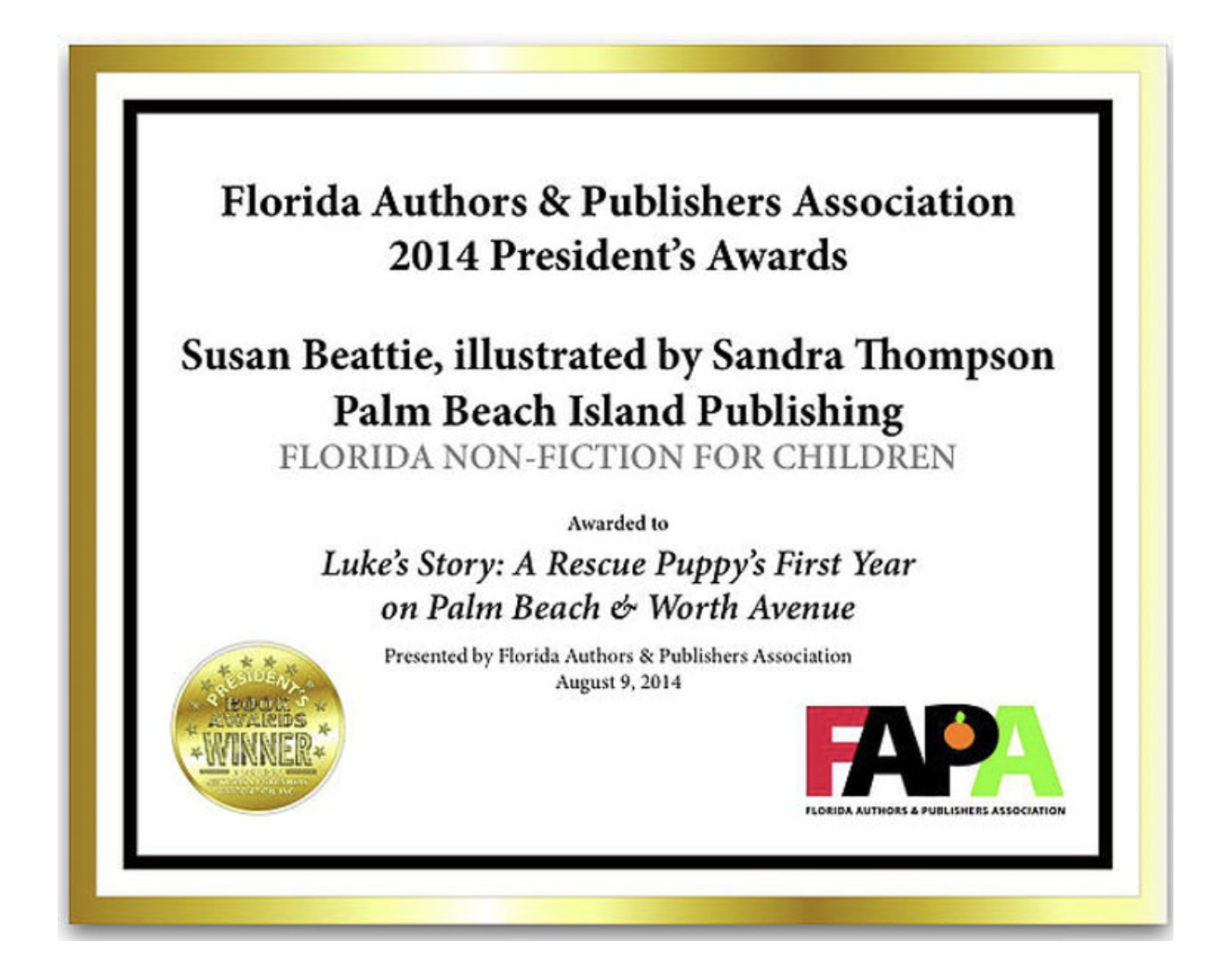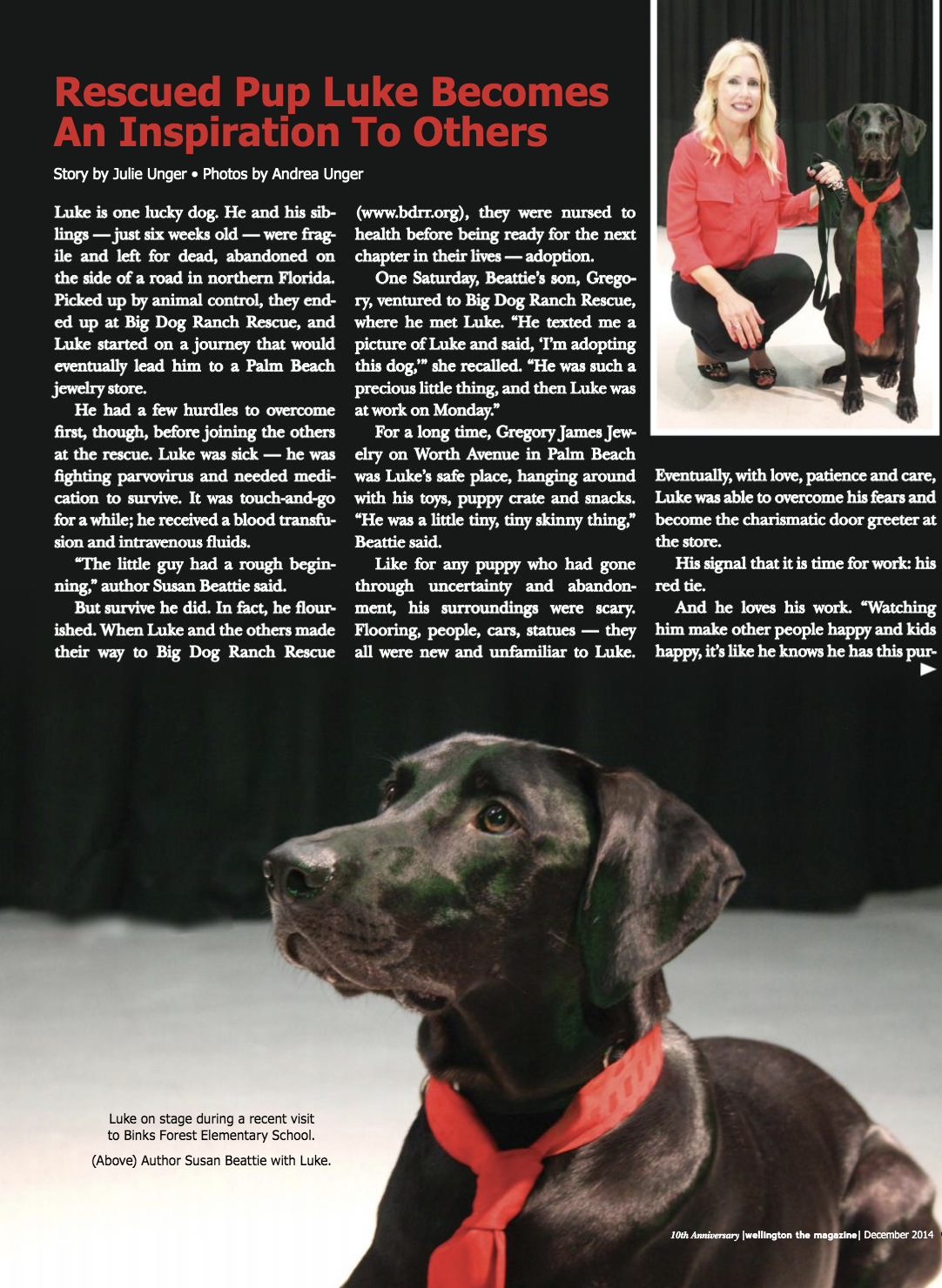 The Wellington Magazine "Rescued Pup Luke Becomes An Inspiration To Others," by Julie Unger, Photos by Andrea Unger