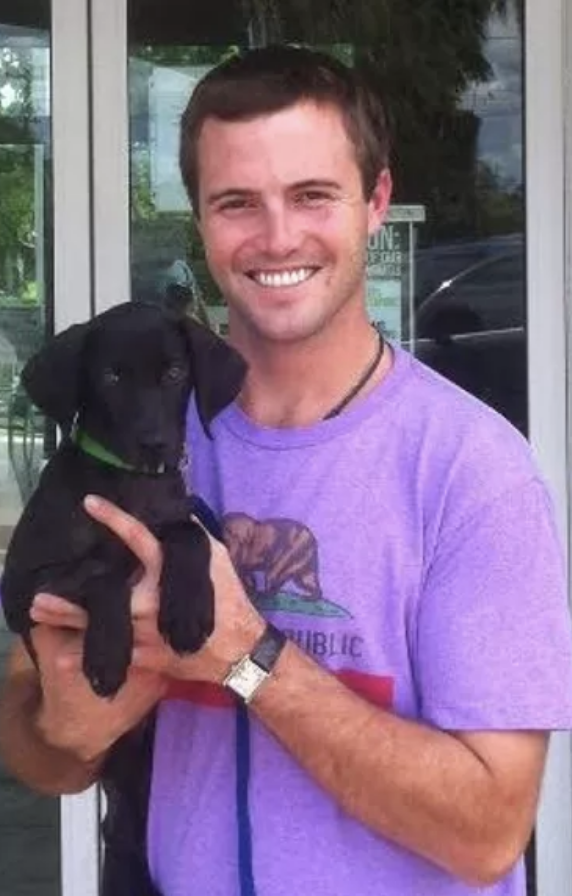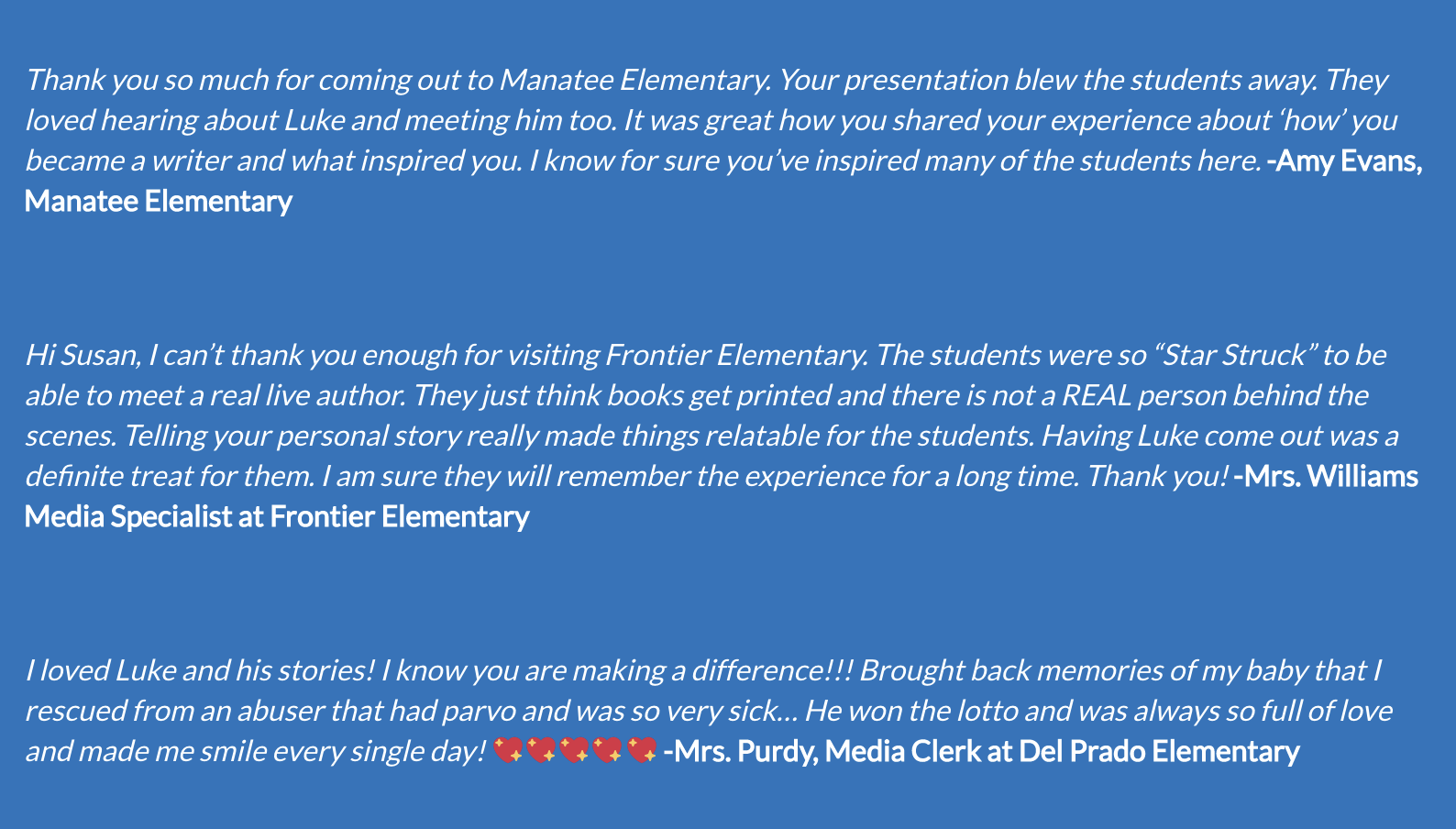 The day after Luke's visit, the children brought in an additional $191.00 donation for Big Dog Ranch Rescue, the largest single day donation to date
-Jill Ostaffe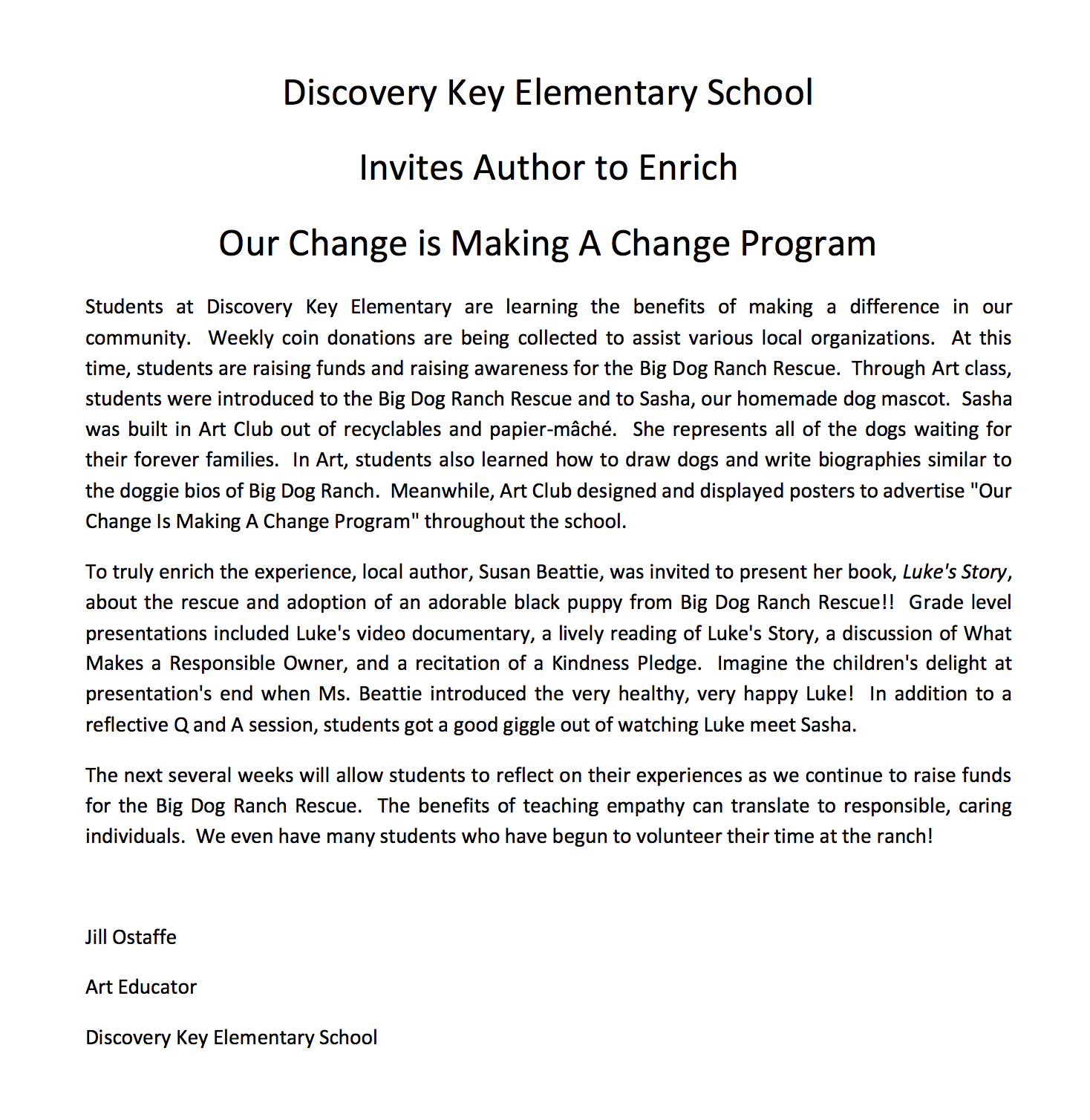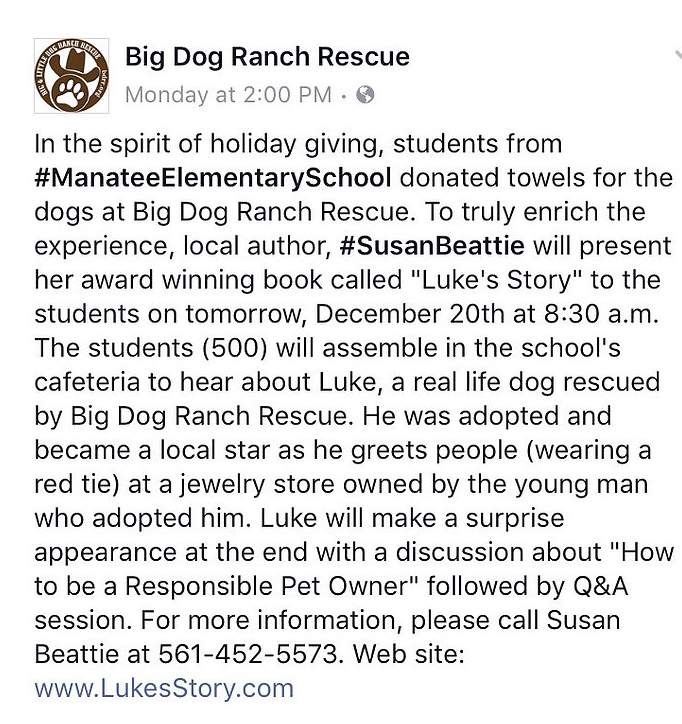 Thank you for donating a copy of "Luke's Story" and a miniature plush for our Junior League Once upon a Tea Event. Luke's Story has, and will continue, to touch so many lives and educate others about the mission of BDRR. Thank you! -Sarah Morrow
Susan, you came to New Horizons yesterday and my Kindergarten class was honored to see and hear your book. I would like to order 17 copies of your book, one for me and one for each of my students as an end of year gift. -Gwen Lyons, Teacher at New Horizons Elementary
Your presentations were amazing – you have such a gift for storytelling as well as commanding the attention of small children! I bet you were a fabulous teacher! -Betty Sayer, Rosarian Academy
Susan, What a marvelous book. The art work is amazing and I particularly enjoyed the story behind the artist and how the beautiful pictures came to be. Look forward to your return -Sharon Stevens, Principal of Palm Beach Public
Love this book! Great artwork of PB as well Luke is adorable and so very lucky to be adopted by these two wonderful people, Sue and Greg Beattie. Luke went from rags to riches! Very cute story of his new life in PB -Maureen Conte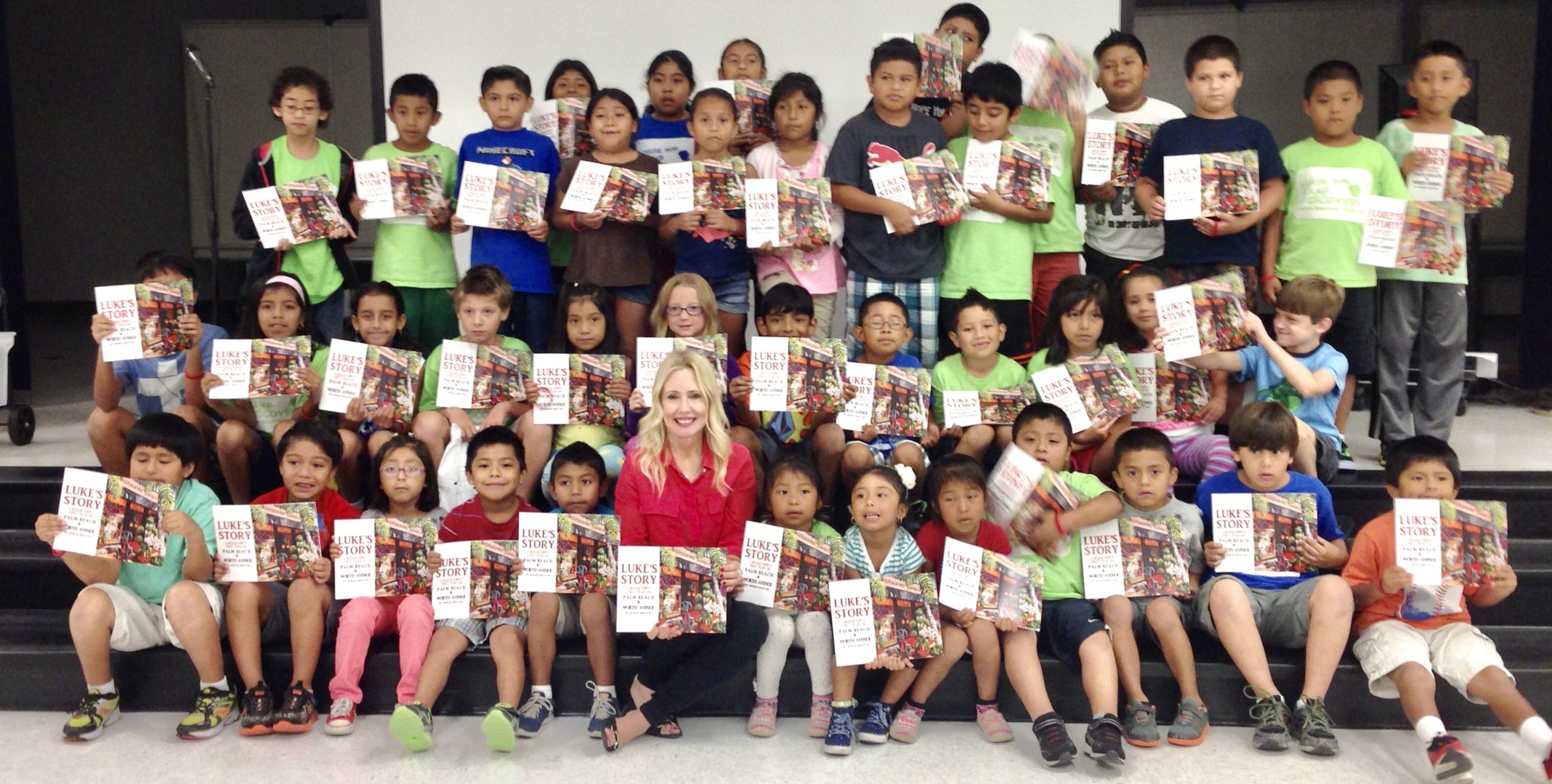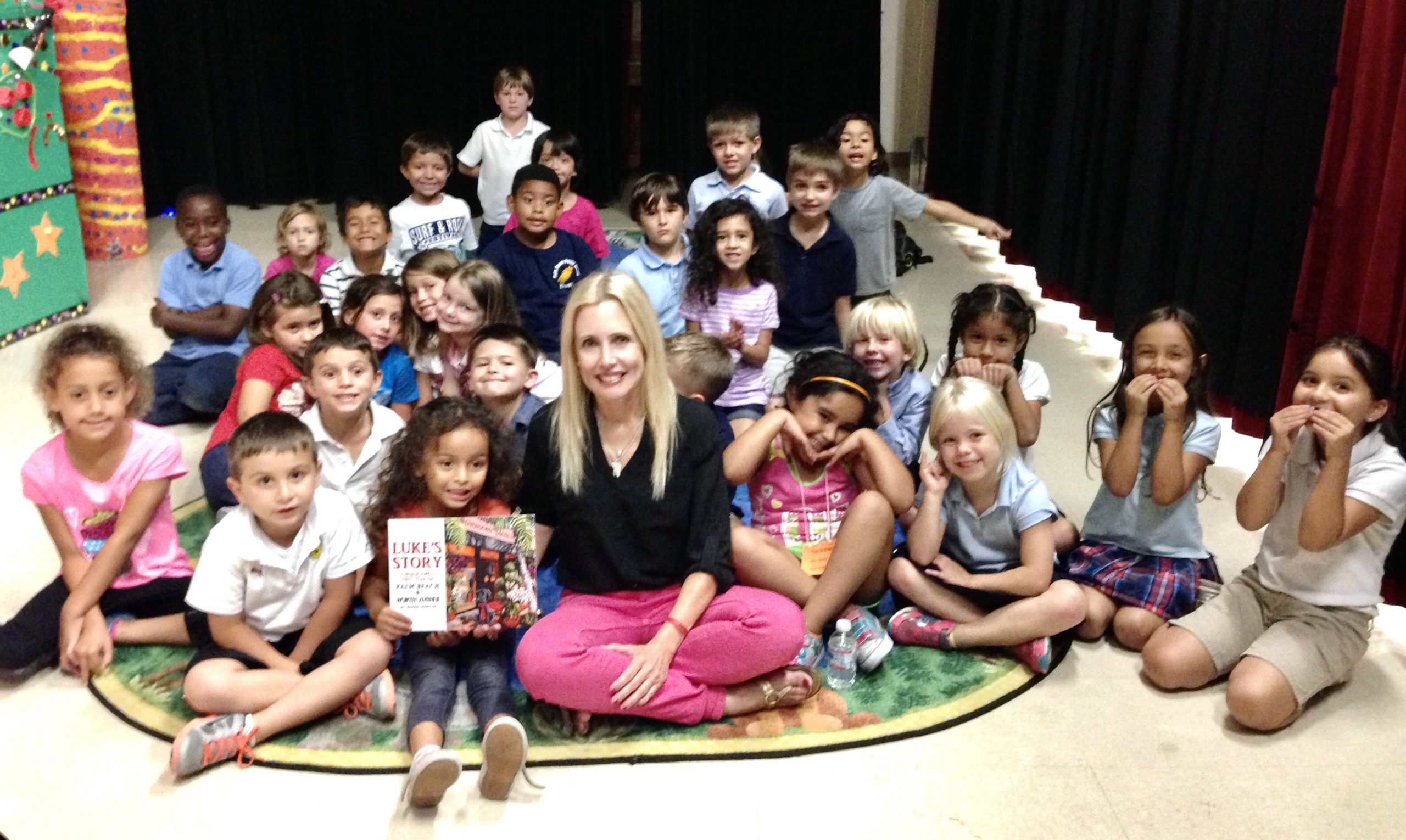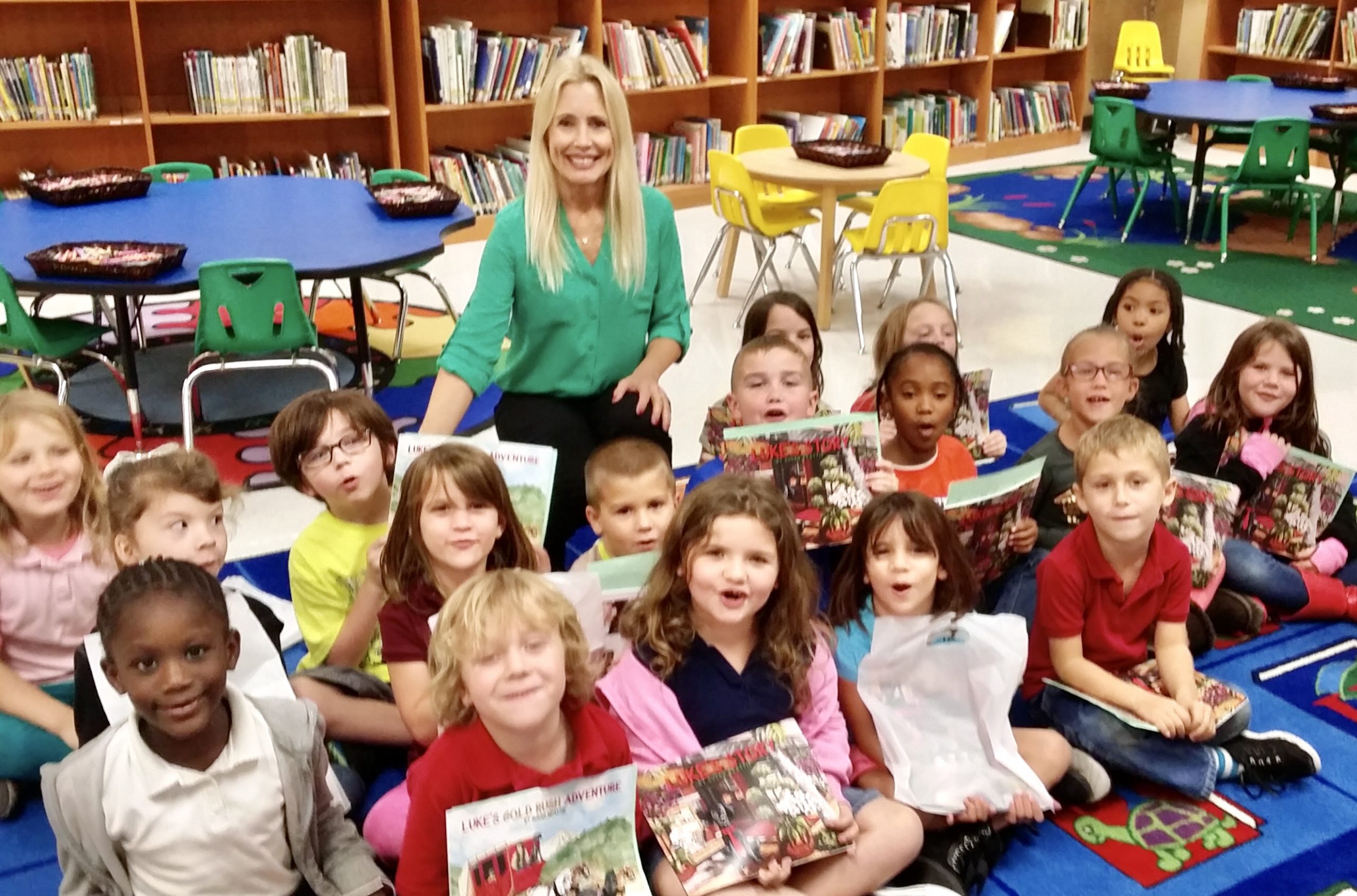 I am a volunteer foster for BDRR weims in St. Pete and rescued my weim from BDRR a couple years ago. Rescuing and fostering with BDRR has been a life changing experience. I can't tell you enough how remarkable I think it is that you have chosen to write a children's book to educate others on the importance of rescuing. One reason I found your book so fascinating is that I am a first grade teacher so I spend a lot of time educating my students on animal rescue and adoption. The principal at my school is "dog friendly" so I have therapy dogs that come to my classroom and I often take my weim to school with me. I noticed that you are scheduling speaking engagements and signings for your book and would love to hear more about the opportunities for attending one or scheduling one here in St. Pete for my students. Your website mentioned that you speak at local schools so I am not sure how far you travel, but I would love to hear more about it. I look forward to hearing back from you and will continue to check your website for book signings so that I can attend one! Kind Regards. – Sarah M.
Thank you so much for sending me copies of your book: Luke´s Story. It is a beautiful heartwarming story. What a delight to read…even for a senior citizen like me. I will pass the blessings on. – Larry S.
Just a note to thank you for my autographed copy of Luke´s Story. I wanted you to know that I´ve glanced through many children´s book for the little ones in our family and "Luke" far outshines anything I´ve seen. Every page is a treasure of words and art and I´m sure any adult who reads it will be as delighted with the lovely blend of both as I am. – Phyllis G.
Thank you Dear Susan and Luke for all you do to promote literacy, companionship and animal rescue and kindness! My grandson was fortunate enough to have you come to his school… Sandpiper Shores… in Boca Raton… and got to see and hear all about your amazing and incredibly important mission.  I am so happy as a former teacher, that you have turned this into a learning tool… teaching children so very much along the way! He adored the first book I got him… and now… I have ordered the entire set. – Dorothy R Bienen, Tormer School Teacher